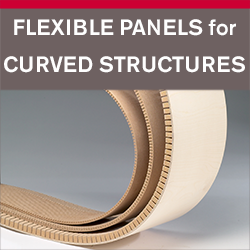 Fabrication Techniques
Framing Technique - Skin Method
---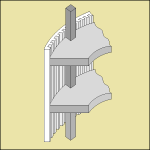 Description
Single skin of Neatflex attached to a framework.
Example Applications
Used in applications where strength, but light-weight is an advantage, such as reception desks exhibition cabinets, columns, displays, wavy walls, shop fixtures, stage and film sets.
Features & Benefits
• Fast fabrication
• Fast finishing
• Heavy duty applications
Directions

1. Fabricate a framework with sufficient shaped and supporting ribs to support the Neaflex skin. For example Ð curved ribs would typically be set at 350 mm to 450 mm centres.

2. Straight ribs used to support the curved ribs should be set-back from the face of the curved ribs to ensure they do not interfere with the Neatflex.

3. Cut the Neatflex to rough shape and offer up to the framework to ensure a good fit. Position the Neatflex grooved face inwards.


4. Apply a good coat of wood glue to mating surfaces on the framework and Neatflex, and finally position.


5. Staple into position with sufficient staples to retain the shape until the adhesive holds.

6. Trim to shape and finish in the normal way.