a) Frame Method
---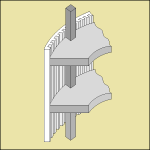 Description
Single skin of Neatform attached to a framework.
Example Applications
Used in applications where light-weight is an advantage, such as exhibition cabinets, columns, displays, wavy walls, ceilings, stage and film sets
Features & Benefits
• Fast fabrication
• Fast finishing
• Light-weight
• 6mm / 1/4" thick (nominal) + surfacing material
Fabrication Method
Single skin
Frame Method - Directions
1. Fabricate a framework with sufficient shaped and supporting ribs to support a single skin of Neatform.
For example – curved ribs would typically be set at
350mm / 14" to 400mm / 16" centers.


2. Straight ribs used to support the curved ribs should be set-back from the face of the curved ribs to ensure they do not interfere with the Neatform.

3. Cut the Neatform to rough shape and offer up to the framework to ensure a good fit. Position the Neatform grooved face inwards unless making a feature of the grooved surface.


4. Apply a good coat of PVA glue to mating surfaces on the framework and Neatform, and finally position, while noting that it is not necessary for the Neatform grooves to be filled with glue. A paint roller is an ideal tool for this job.


5. Either tack into position with hot melt adhesive if access to the back face is available, or staple – see fabrication tips.

6. Trim to shape and finish in the normal way.