| | |
| --- | --- |
| Neatform Product Specification | |
PRODUCT CHARACTERISTICS
Neatform is available in Long Cut and Cross Cut versions: the board is grooved in one direction to enable – for example – a tall column or wide counter-front to be produced.
There are un-grooved border edges, approximately 25mm wide on the two edges running parallel with the grooves. This un-grooved edge protects and makes the product more stable when being handled.
PHYSICAL PROPERTIES
The standard specification physical properties of the MDF used to manufacture Neatform are:
Moisture content 5-6%
Density 750 Kg/m3 / 47lb/ft3
Thickness Tolerance ±0.15 mm / ±0.006"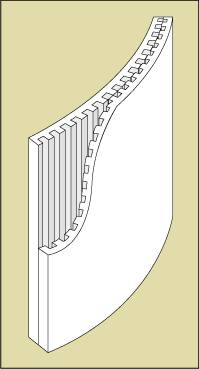 BENDING CAPABILITIES
The typical minimum bending radius obtainable using 6mm Neatform is 150mm / 6". If a tighter radius is required it is best to test before proceeding, because although Neatform will bend with ease, the grooves may "telegraph", particularly if excessive pressure is applied to the bend or the material has been badly handled or stored. Bending capabilities of Neatform vary with the moisture content and temperature of the MDF and, because it is manufactured from natural raw materials, it may vary slightly from one batch to another. Long sections are trickier to fabricate and may require a fixture or second pair of hands to form and secure. As with many products being used for the first time, it is worthwhile planning out a programme of work and testing critical areas before proceeding with your main project.
WATER & FIRE RESISTANCE
Neatform is not made from fire resistant MDF nor is it recommended for wet applications.
COLD CONDITIONS
The bending characteristics of Neatform and other materials such as laminate vary with temperature. Care must be taken, especially in cool conditions, that the materials do not become too brittle to work with.
TEMPERATURE CONDITIONING
Neatform should be acclimatised the same as the surfacing material, adhesives, paints or lacquers to be used. If available refer to the fabrication guidelines for the surfacing material, adhesives, paints or lacquer.
HANDLING
Care should be taken when handling Neatform Bendy MDF. The size, weight and flexibility of a full sheet will generally require two people to ensure that the material is not over-flexed or broken.
STORAGE
Neatform should be stored flat in such a way that both surfaces are protected. Store in a dry area and avoid direct contact with the floor.
HEALTH AND SAFETY
When working with any timber based product including MDF it is important to take health and safety seriously. Protective goggles and a dust mask are essential. MDF must be cut in a well-ventilated area and all machining tools should be fitted with dust collection systems. We recommend that you ask your supplier for a copy of the Material Safety data sheet / COSHH Sheet or visit the Material Safety Data section of our web site to download a copy now.